The Vidourle river flows out of the Cévennes mountain range into a region of karstic limestone. The water seeps into and enlarges cracks in the limestone and forms an underground river system. In the case of the Vidourle, no sooner is it out of the Cevennes mountains than it disappears underground. Some 10 km away at the base of a cliff in the town of Sauve an underground river comes to the surface and rejoins the (often dry) Vidourle river bed. The river is always there – it just slips away underground for a few kilometres. Below are pictures of the "fountain" in Sauve and the cascades where the river rejoins its (above ground) riverbed.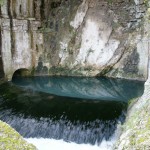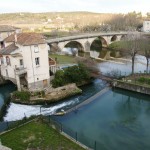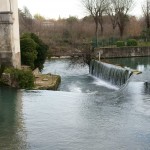 Le Vidourle (fleuve côtier du Gard) quitte sa haute vallée à Saint-Hippolyte-du-Fort et traverse un plateau de calcaire karstique entre Saint-Hippolyte et Sauve. L'eau s'infiltre dans des fissures du calcaire et peu après le passage à Saint-Hippolyte, la majeur partie de l'eau de la rivière disparaît sous terre. Quelques 10 km de là, à la base d'une falaise dans la ville de Sauve, l'eau surgit d'une fontaine et rejoint le lit du Vidourle. Le fleuve est donc toujours là – ayant simplement pris un petit congé sous terre sur quelques kilomètres.
Ci-dessus – des photos de la «fontaine» à Sauve et les cascades, où la rivière rejoint son lit en surface.