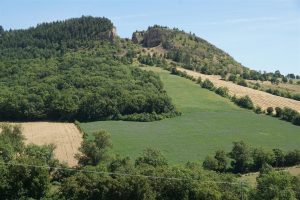 The ancient site of Grédone, thought to have been a military strongpoint of the ancient Gabale peoples, is now the peaceful village of Grèzes. Located between Mende and Marvejols in Lozère region, it overlooks the Jourdane river valley below and shares the skyline with the Truc de Grèzes. In most of the Languedoc, a hill is called a puech, but in the Lozère area, this geographical feature is often called a truc. Grèzes is built at the base of its eponymous Truc and faces, on the opposite bank of the Jourdane river, the Truc de St Bonnet. It's easy to see why these trucs would have been used for military purposes – flat tops, steep hillsides and easy to defend. However, the strangest geological "feature" in this area is not a Truc, but a "split mountain".
Le site ancien de Grédone, qui aurait servi de forteresse pour les Gabales, peuple pré-romain du Gévaudan, est aujourd'hui le village paisible de Grèzes. Entre Mende et Marvéjols, le village est adossé à son truc (1). Et le Truc de Grèzes fait face au Truc de St Bonnet sur le rive opposé de la rivière Jourdaine. Il semble que l'érosion les auraient fait émerger car ce sont des buttes de calcaire assises sur les marnes. On comprend facilement que ces trucs servaient comme postes militaires compte tenu du profil des collines et du fait que les sommets affleuraient 1000 m. Néanmoins, l'aspect géologique le plus étrange du coin n'est pas le truc, mais plutôt la Montagne Fendue.
(1)Truc : grosse pierre, butte ou sommet. En toponymie française il existe des dizaines de synonymes pour ce terme selon les régions. Quelques exemples : coulet, mountet, mourre, puech, pujol, puyet, pié, raspet, serre.