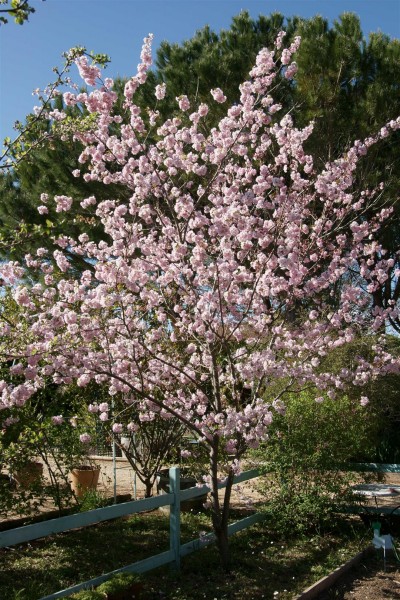 Around the last week of March till the 10th of April, the flowering prunus and malus shrubs and trees put on the most spectacular displays of color. No wonder the Japanese and other Asians are in love with these trees. The only "odd-man-out" in this series of images is the Chinese flowering chestnut (xanthoceras sorbifolium), a plant native to the provinces of northern China and rare in Europe. This one was grown from seed.
A la latitude 44 ° N en Europe (nord méditerranée) vers la dernière semaine de mars et jusqu'au 10 avril, les variétés de malus et de prunus sont au sommet de leur beauté. Ces arbres et arbustes sont très populaires en Asie, en particulier au Japon, pour leur grande beauté. Leur popularité découle aussi en partie de leur grande fragilité qui fait penser à la réalité de la vie humaine. Cette pensée mélancolique est un élément clé de l'appréciation de ces arbres par les japonais.

La seule fleur différente dans cette série d'images est le xanthoceras sorbifolium, un arbuste du nord de la Chine dont les fleurs rappellent la fleur du châtaignier. Cet arbuste est rare à cette latitude en Europe. Le spécimen photographié ici a 10 ans et a été obtenu par semis car difficilement trouvable dans le commerce.